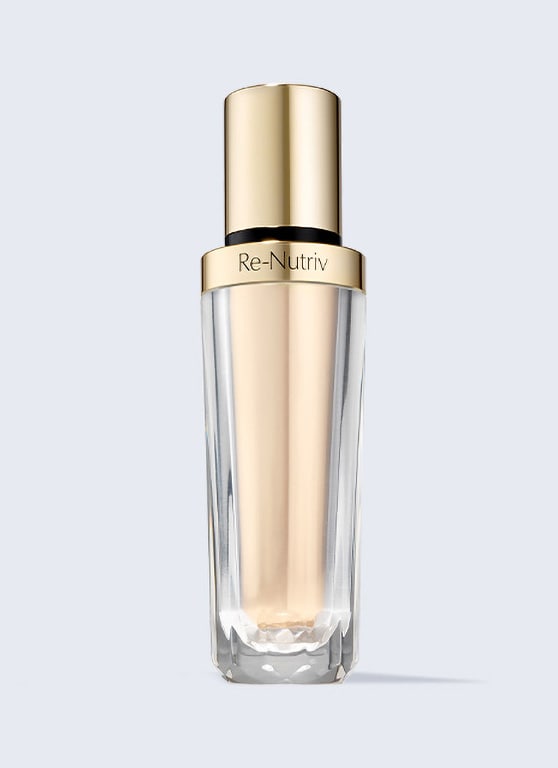 Re-Nutriv
Ultimate Diamond Transformative Brilliance Serum
極緻黑鑽塑顏鑽光精華
An exquisite, innovative serum reveals flawless, radiant, diamond-brilliant skin
Product Details
Out Of Stock
This shade/size: Coming Soon
inactive
This shade/size: Sold Out
Product Details
At the heart of New Ultimate Diamond Transformative Brilliance Serum is a true "skincare diamond" and potent energy infusion for skin, Re-Nutriv's exclusive Black Diamond Truffle Extract. This breakthrough ingredient is crafted using a proprietary extraction process from precious Extra Class truffles harvested exclusively for Re-Nutriv in the southwest of France. Like a diamond is graded on its qualities, these truly rare treasures from the earth are expertly graded on their color, marbling and size.

KEY TO BRILLIANCE: STUNNING SURFACE + YOUTHFUL STRUCTURE
• Surface: Brightening. Three powerful ingredients, Black Diamond Truffle Extract + Vitamin C + Youth Sustaining Technology, work together to help visibly brighten skin and reduce the look of spots, including acne marks, transforming skin to a new level of luminosity. This brightening blend helps reduce natural melanin production by -43%1.
• Structure: Firming. Re-Nutriv's cutting-edge Youth-Sustaining Technology supports to help skin act younger, longer, and the formula specifically targets collagen, elastin and fibrillin, key proteins to promote skin's youthful structure, elasticity and firmness. Re-Nutriv's youth-sustaining technology. It has been shown to increase natural collagen +215% after 3 days2.

FLAWLESS, DIAMOND-BRILLIANT SKIN REVEALED
New radiance is revealed as skin's appearance becomes more even-toned and vibrant. Skin feels firmer, with more spring and elasticity.

• NEW Re-Nutriv Diamond-Brilliant Skin Score: Inspired by the precision with which a jeweler grades diamonds, Re-Nutriv developed a clinical grading system of the key facets of skin's visible transformation, encompassing visible measurements of surface and structure - Radiance, Spots, Anti-Sallowness, Translucency, Firmness, and Elasticity.
94% of women improved on Re-Nutriv's Diamond-Brilliant Skin Score3.

1In vitro testing after 7 days
2In vitro testing after 3 days
3Percentage of women with improvement in Diamond-Brilliant Skin Score index, which is a combination of Radiance, Spot Intensity, Anti-Sallowness, Translucency, Firmness and Elasticity. Clinical testing on 36 Asian women after using product for 6 weeks, 2X per day.

Ingredients
An exquisite, innovative serum reveals flawless, radiant, diamond-brilliant skin
Ideal For
For all skintypes.